After all these months of Covid-19 pandemic and lockdowns, the world is slowly getting into the usual pace. Once again, travel and touring are back. Agencies are running few groups and dealing with few inquiries. With the travel business's opening up, Nepal's Government has introduced new rules and protocols for travel and tours. It focuses on travelers, and staff members feel safe, secure, and protected. Travelling isn't the same as before. But this is the new normal. And people are gradually adapting and traveling with full precaution and process.
With this change, travel and tour operators in Nepal are also ready to accept and adapt their travel package and itinerary product to assure health guidelines. It has been a new challenge and new thing for travel companies to run their product. They have to follow-up with new rules made by the Government of Nepal. Quarantine days for their clients, document fulfillment, insurance, and a lot more before making one of the trips successful. They also have to study the touring distance, timing, and other outdoor alternatives, emphasizing less populated areas with fewer groups maintaining the social space.
Travelers also may be very eager to travel after a long time of home isolation. People are desperate to travel and spend time in nature. With the new standard, upcoming tours will engage more in wilderness and wellness. 2020 has been like spending a lot of time indoor. People are anticipated in 2021 to engage more in physical activities, traveling, etc. Hence we, Satori Adventures Pvt. Ltd. in Nepal, welcome all the travelers to visit Nepal for the expedition, peak climbing, trekking, nature and cultural heritage visit, and a lot more.
With the spring season 2021 started, we Satori Adventures Pvt. Ltd. also begin our program with the complete following upon the government protocols and other necessary guidelines. Our Annapurna Expedition and Everest Expedition has already started with our respected clients, experienced guide, porter, and full essential criteria and document fulfillment and permits. We had to make sure for our clients that they could reach their destination without any trouble. Necessary quarantine, permit issue, insurance, and all other procedure are for the smooth operation of our expedition and trekking that are going on. So till the date, our clients are smoothly heading towards their destination without any hurdle and difficulty.
We Satori Adventures Pvt. Ltd. has been in this travel industry for a long time and have done many expeditions, peak climbing, trekking, and other successful. Our previous programs have gone successfully with our experienced and well-qualified team, and this spring season 2021 also we are running our Annapurna Expedition and Everest Expedition smoothly with strict follow-up upon health guidelines and government protocols. Still, more programs are about to run this season.
Annapurna Expedition I – Spring 2021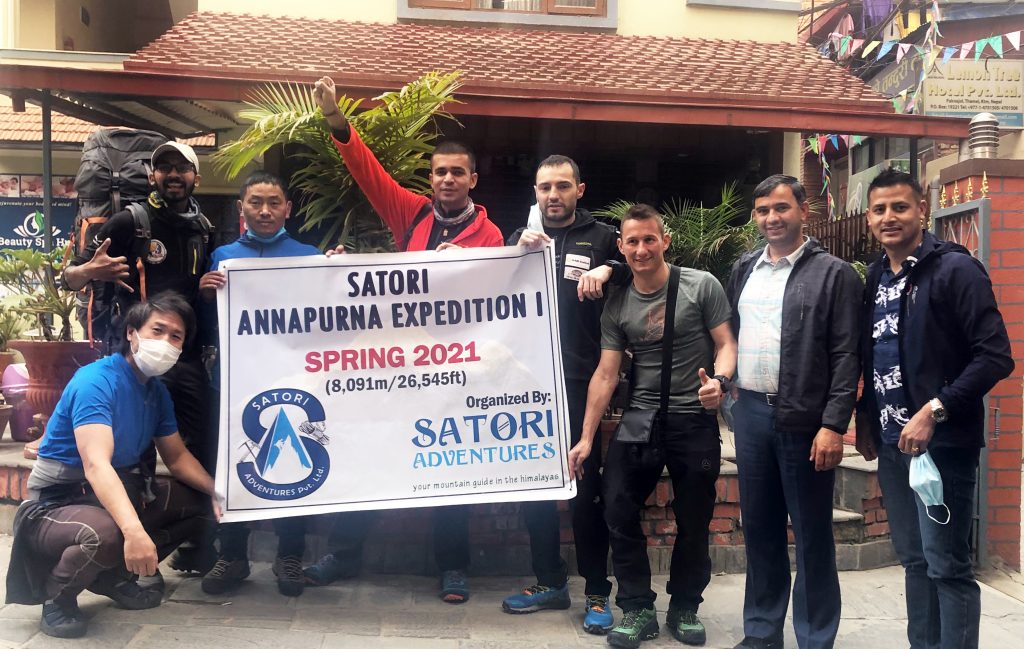 So, there might be many people with doubts about how safe Nepal is to travel after months of the Covid-19 pandemic and lockdowns. Few travel companies or groups skip the guidelines of Government protocols and required document and procedure fulfillment. With experienced and genuine travel companies, travelers could visit Nepal with complete peace of mind and without hesitation.
Everest Expedition South – Spring 2021
Being in this business for a longer time and doing our travel programs, we Satori Adventures Pvt. Ltd. wants to state that Nepal is safe for travel and is now open for tourists. So we would like to welcome all our respected clients to visit our country and trust us to serve you to reach your destination in Nepal. Allow us to provide you travel service. Satori Adventures Pvt. Ltd. will give you the best and quality service at a reasonable price and assure to clear all the doubt regarding traveling in the Covid-19 pandemic. We give assurance for a better and safe journey in Nepal.
Detail of Annapurna Expedition
Detail of Everest Expedition South