A Climbing Sherpa Guide is the most essential element for your safe and successful Everest climb.  Climbing Sherpa Guides provide essential functions, such as opening routes to climbers (especially through the Khumbu Icefall above Everest Base Camp), fixing lines, and managing tents and provisions in high altitude. Without these functions, a successful summit of Everest would be near impossible.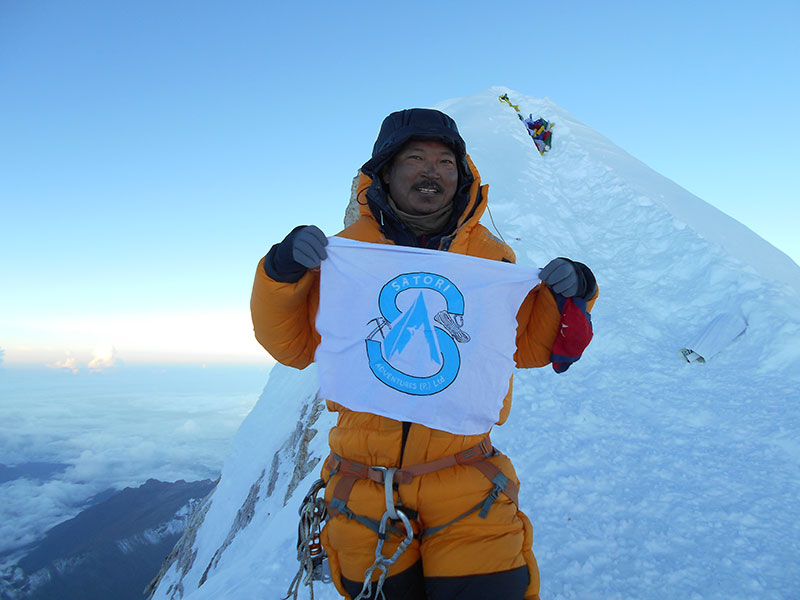 Mountaineers know the value of a Climbing Sherpa Guide in the Himalayas. However, many beginner mountaineers and visitors who have never been to the Himalayan region may not fully appreciate the difference between a "guide" as the term is used generally and a "Sherpa Guide" (also referred to as a "Climbing Sherpa Guide). A "guide" may be commonly defined as: "A person who advises or shows the way to others; a thing that helps someone to form an opinion or make a decision or calculation."
Although a Sherpa Guide is all of this, he is much more. The Sherpa are an ethnic group in Nepal who live north east in the mid mountainous region. Most have a surname of "Sherpa." When climbers started climbing the high mountains of the Himalayas, they first hired Nepali people to support their journeys. But it quickly became apparent that the Sherpa people possessed a particular strength and skill vital to greater success and safety in the mountains. For one thing, the Sherpa people do not suffer from high altitude sickness like other peoples not as accustomed to mountain living and were a very courageous people ready for challenging adventures. The Sherpa people also had the same characteristics of honesty, responsibility and trustworthiness common to other Nepali peoples.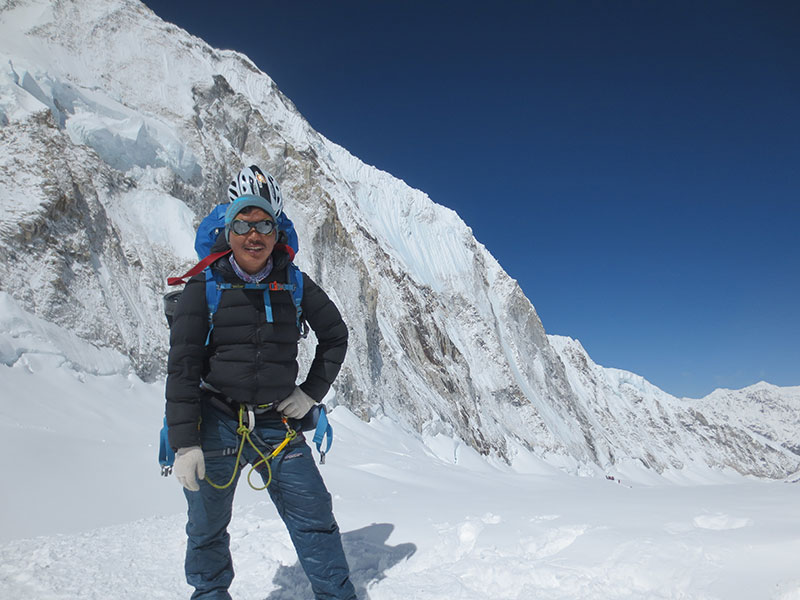 Over time, foreign climbers began to train the Sherpa people, who were also very open to learning English and pursuing additional training in mountaineering. After a few years of experience, these people began to work as guides, sharing their culture, tradition, history and education about the mountains with their foreign counterparts. Further, many climbers have found that local Sherpa people can accurately predict the wind, snow and temperature from the clouds. After a time, mountaineers and climbers began to refer to this special class of guides as "Sherpa Guides."
As an historical aside, in 1960, as tension with China increased, the Nepali government influenced the Sherpa people to grow.  In 1976, Khumbu became a national park and tourism became a major economic force.
Today, our climbing guides are professionals who are trained and assessed either via the International Federation of Mountain Guides Associations (IFMGA) resulting in a greater repertoire of skills that enables them to provide a dedicated level of security to climbers during their expeditions. Alternatively or in addition to this experience, climbing guides have many years of mountaineering experiences on the world's biggest peaks. Our guides are experienced in both advanced and basic rescue courses and all have a minimum of three years' guiding on Everest, Makalu and Manaslu.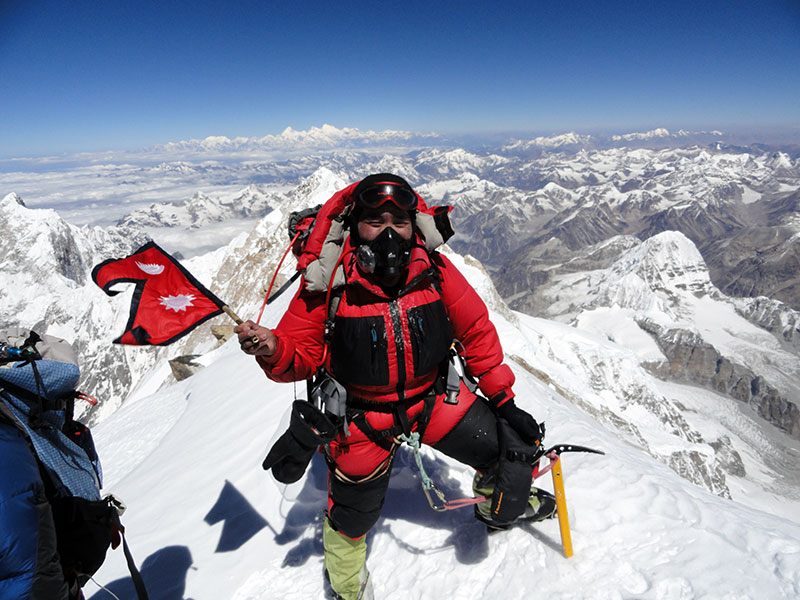 When climbers arrive at Everest Base Camp (EBC), our Base Camp staff and Climbing Sherpa Guides will have everything prepared so that climbers may immediately rest and focus on proper acclimation efforts. After leading all expedition teams through a Pooja ceremony for their safe and successful climbs, the Sherpa Guides will open the route and establish Camp 1. Once ready to attempt it, climbers will be taken to Camp 1 to acclimate, where climbers will remain for 1 or 2 nights depending on physical fitness and speed of acclimation. Climbers will eventually move to Camp 2 and descend back to EBC. Passage through the Khumbu is necessary during these acclimation hikes and our lead Sherpa Guide, Sirdar, will train climbers through the Khumbu for use and advanced technique of safety procedures, ice axes, crampons, descending fixed lines and crossing ladders through the ice fall.
During these times, our high altitude Sherpa Guide will supply gear, equipment and food at Camp 2. Similar acclimation hikes up to Camp 2 will follow and, depending on weather conditions and other factors, climbers may spend 1 or 2 nights at Camp 2 before returning to EBC via Camp 1. During rest and time at base camp, a group of our Sherpa guides will continue to open routes, fix and provision camps and fixed lines for preparation toward the summit push.
After Camps 1, 2 and 3 acclimations, our Climbing Sherpa Guide will monitor weather forecast, group fitness and recovery conditions. If all factors are in line, the summit push will commence. On the summit push, you will move through Camp 1, Camp 2, Camp 3 and finally to Camp 4 before moving to the summit. At Camp 4 (South Col) you will wake up and begin to prepare for the summit push. Beginning at Camp 3 and on to the summit push, each client will have their own Climbing Sherpa Guide so that climbers may proceed at their own pace. The Sherpa Guide will carry two extra oxygen bottles for the climber and for himself and climbers are required to carry only drinking water, extra gloves, energy foods, a camera and the oxygen bottle that is in use. The Sherpa Guide will of course always and especially during this stage be responsible for the inevitable difficulties faced in high altitude.
If climbers are forced to return to EBC for any reason before the summit push (such as poor weather, insufficient group physical fitness or accident), a retry will be attempted by interested climbers in the event a window of weather is available. However, the "retry" is not generally needed.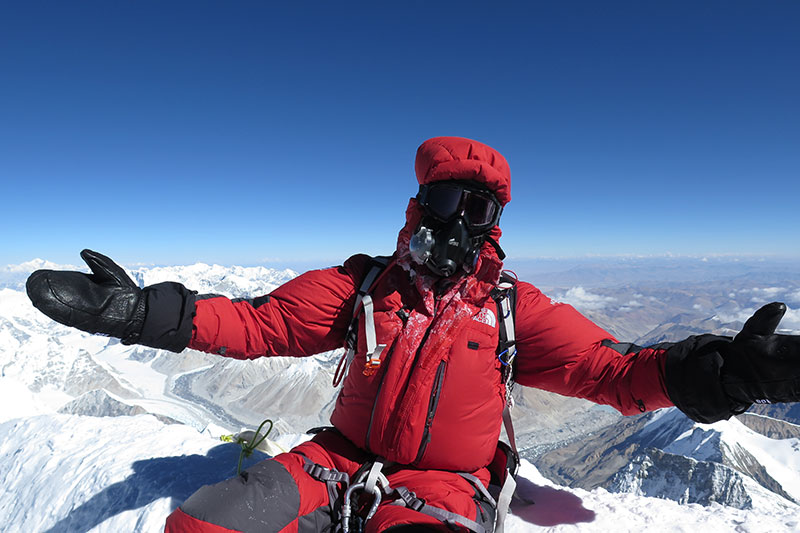 Following the climb, the Sherpa Guides clean camps and areas above EBC by bringing all all equipment, trash and empty oxygen bottles back to EBC.
Clearly, the Sherpa Guides make the lives of foreign climbers more secure and pleasant. They are a happy and easy going people who take great pride in their mountaineering heritage.