With the development of human life and the invention of technology, people engaged in research and development. It intensifies the search for nature. And there is a search for the highest and lowest places in the world. Explorer has to reach the Himalayas' highest point with the foot. Measure the height according to the technology of that time. The fear of development accompanies mountain climbing. French mountaineers Maurice Herzog and Louis Lachenal successful summit of Annapurna I Expedition on June 03, 1950. Annapurna was the highest mountain in the world.
Satori Adventures has operated an 8000m climbing expedition for the last 15 years. Hundreds of climbers have successfully climbed the world's highest peaks. We run mountains like Annapurna, Everest, Lhotse, Makalu, Dhaulagiri, Kanchanjungha in spring. In the autumn season, Manaslu, Annapurna, Ama Dablam, Himlung mountains.
There's difficulty to get pleasant weather in the Annapurna I Expedition. There is a lot of snow on this mountain. Wind blows at high speed in the spring and autumn seasons. Take some risks quickly and push to the summit. It's more challenging and technical than other 8000 meters mountain expeditions.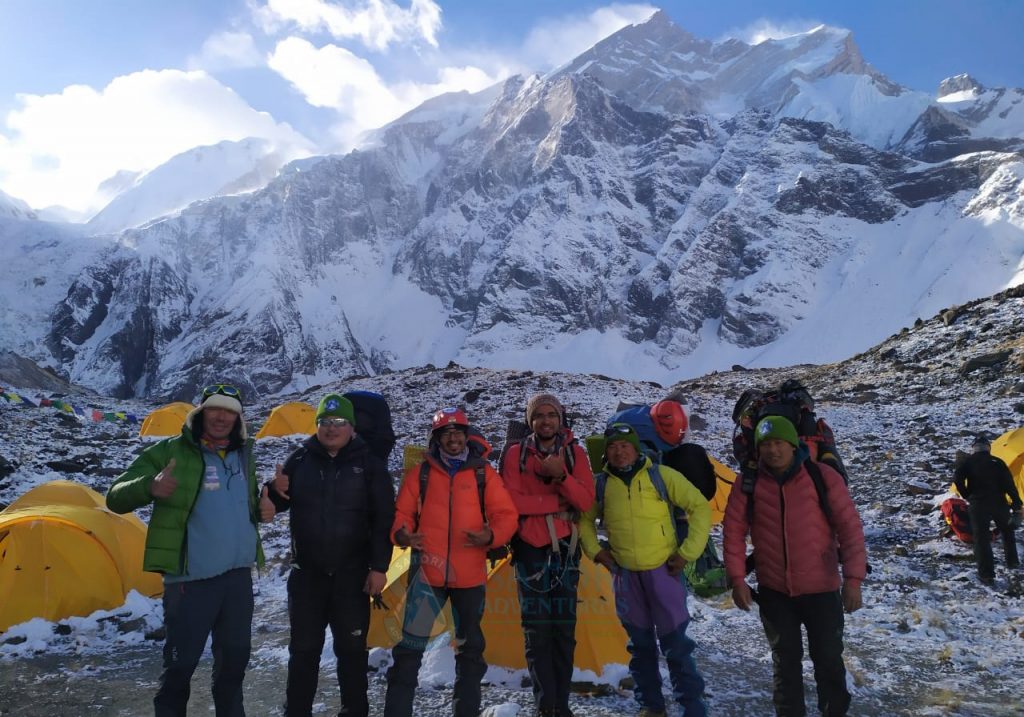 This spring, Satori Annapurna expedition members, climbing Sherpa guide, started journey from Kathmandu on March 23, 2021. 15 climbing members from 9 different countries including 28 Nepalese crew members, Team leader, sirdar, Climbing Sherpa guide, and expedition base camp crew in the team. The Annapurna I expedition (8091m) duration allows 75 days from the Department of tourism and the ministry of Culture, tourism, and civil aviation. Mr. Kakka Keval Hiren leads the trip from India with climbing Sirdar Mr. Mingma Temba Sherpa.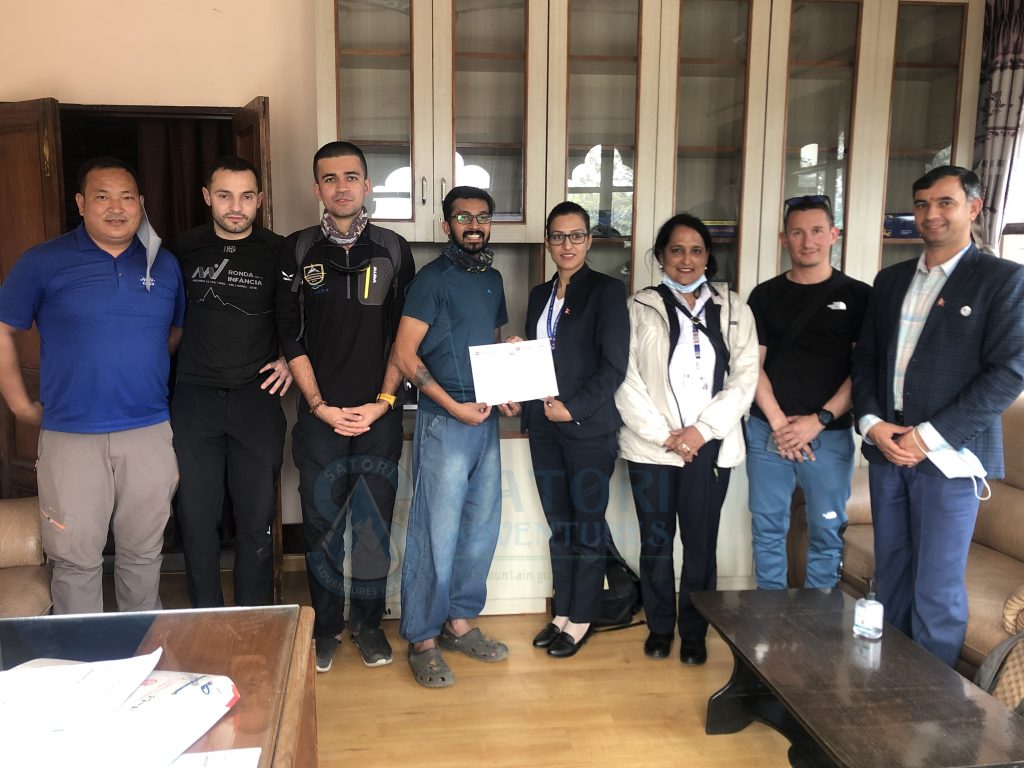 According to the Department of Tourism statistics, there were 44 foreign nationals and 52 Nepali climbers in Annapurna I in the spring of 2021. Among them, 67 people, both foreigners and Nepal's manages to summit Annapurna I on April 16, 2021, from 10:30 – 15:00. The group successfully summit on April 16, 2021, at around 01–03 pm.
All the members involved in this trip are of age group 25-57 age-old. They all are physically and mentally fine. None of the casualties has occurred during the trip. Annapurna I (8091m/26,545ft.) is the 10th highest mountain in the world and the eighth highest mountain of Nepal. It is one of the most technical climbing peaks and the hardest peak of 8000m in the world.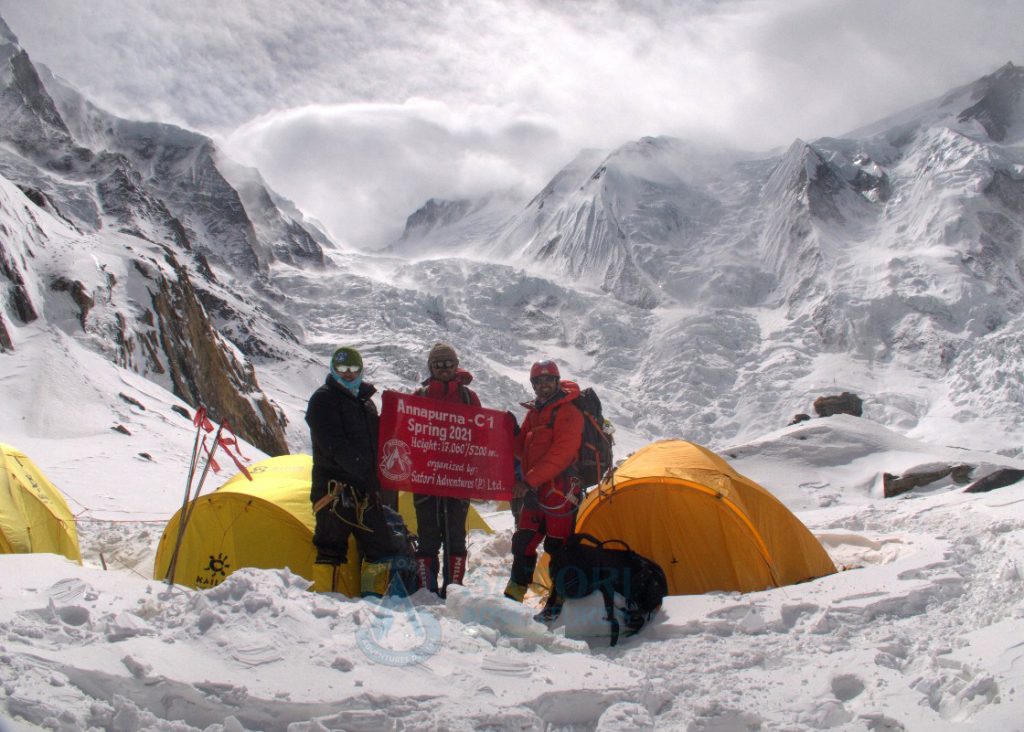 We Satori Adventures had provided complete service organizing all required and necessary permits, documentation, and briefing of climbing, airfares, logistics, porters, transportation, food, accommodation, human resources, etc. required during the trip and as per our client. We all know that we are still living with this COVID-19 epidemic. Satori Adventures Pvt. Ltd. ensures a safe and sound trip. And ensures no issues and problems occur during this trip. So proper health assurance, medical checkups, and insurance are done.
With this successful Annapurna I Expedition summit, we would like to express that
"Himalayas is free from all sort of disease and epidemics."
We welcome all our clients worldwide to Nepal. Do remember Satori Adventure Pvt. Ltd. for the best and reliable service partner for the expedition, peak climbing, trekking, and other activities in Nepal.