Comparison: Lobuche East vs Island peak climbing Expedition.
Usually, versus means to say that it is against the common, we mean more than that. We want to take a look at some of the differences between Lobuche East vs Island peak climbing that our experience has shown. People explain everything either based on experience or based on the study. As an experienced expedition operator and former climbers, Satori Adventures makes this comparison based on experience and research. We explain and compare each item with another entity or similar.
Mountaineering is a daring and healthy adventure sport that keeps a healthy life and physically fit. If you want to check your whole body's health at least once a year to reach the height of 6000m, you do not have to do any medical check-up. Lobuche East vs Island peak climbing is almost the same size, technical, duration, and experience requirements to climb. However, even anything is the same, there is a lot of underlying subject matter hidden on it. So we would like to express our experience and knowledge that are hidden differences between Lobuche East vs Island peak climbing.
According to the expertise, the climber will choose the right peak to climb as per their own experience. We found many climbers choose the wrong technical climbing peak because of the false information that is received or collected from the website and online portal. So Satori Adventures' prime concern for the climber is to choose the right trekking peak after reading this article, which is suitable for him/her according to his/her physical fitness and previous experience.
Lobuche East Peak Climbing

Lobuche East is a mainstream name in the rundown of trek able mountains in Nepal. The growth of Everest implies lies in the most delightful Khumbu district. Despite having two faces, East and West, this peak is generally moving from the east and consequently known as Lobuche East. Lobuche Peak's head's excursion is exceptional because of its emotional path and delightful perspectives from the top.
Island Peak Climbing
On the opposite side, it is Island Peak (also named ImjaTse), another famous trek able peak of the Everest area. This peak appears as an island encompassed by the ocean of ice from separation, and this is why it is named Island Peak. Another intriguing reality about this peak is that the principal climbers of Mt Everest, for example, Sir Edmund Hillary and Tenzin Norgay, both summitted Island top from the outset before Mt Everest. It is also taken as a training ground for the Everest endeavor since the time.
Altitude: Lobuche East vs Island Peak climbing expedition.
The Lobuche East culmination stands 6199m, and Lobuche West 6,114 m tall. There are two camps during the Lobuche East ascension. The Lobuche Base Camp is at the height of 4950m and the High Camp at 5400 m. Towards the west of Lobuche is a little and excellent Sherpa Village at 4930m.
Island peak arranged at an elevation of 6,189m with its base camp at the height of 5,087m. Between the Lobuche East pinnacle and the Island top is Chhukung Village at the height of 4,730m.

Climbing Routes: Lobuche East vs Island Peak climbing expedition.
The ordinary course for climbing Lobuche East peak is through southeast Ridge, even though it offers different climbing routes. We endeavor to the highest point, the Lobuche top, from the west face. You will be climbing step by step towards the high camp to the summit. The ways are tolerably disposing at the upper point. When coming up to the high camp, you won't need any hardware. After arriving at the high camp, aides will fix the fundamental ropes that prepare towards Lobuche East's principal highest point.
Island peak is genuinely just one route to climb the summit, a southeast (usual) route. The height of the Island peak Base Camp is 5, 100m/16,732 feet, and High Camp's at 5,500m/18,044 feet before going on your summit attempt. We also have three evenings in Namche Bazaar, around 3,500m/11,500 feet on the Everest Base Camp trip.
Climbing and Difficulty: Lobuche East vs Island Peak climbing expedition.
Lobuche East peak is more difficult in comparison to Island peak climbing. It is the most technical and testing climb that incorporates sharp plunges. The snow slants are steep, dangerous, and testing. Along these lines, a climber is to have progressed information about climbing. Other than that, climbers ought to likewise be gifted and prepared to utilize the climbing gear. The descended ought to be used on fixed lines while crampons, ice tomahawks, pickets, and other hardware must be appropriate while the ropes are getting resolved.
The Island top is a troublesome ascension yet not as troubling as the Lobuche Peak climb. It incorporates a few specialized segments and strolling through numerous precipices and rough, elusive wedges.
Extraordinary abilities to utilize ropes, ice hatchet and other hardware are an absolute necessity. Island Peak lies at a higher elevation than Lobuche. However, climbing Lobuche is a lot harder than Island Peak.
Communication facility: Lobuche East vs Island Peak climbing Expedition.
Lobuche east lies within the Khumbu region, where phone access isn't available everywhere. Mobile networks are available in just the many places of the trekking route. Still, in most tea houses/ lodges, there's wifi internet available as Everestlink. It's perfect for communication.
Comparison with Lobuche East vs Island peak climbing is facilities and crowdy trekking routes. Telecommunication services on the paths also are not enough. GSM and CDMA connectivity is out there with an online connection. But there are the facilities of Everest link wifi within the lodges and Guesthouse.
Safety, security, and successful ratio: Lobuche East vs Island Peak climbing expedition.
Lobuche East vs Island peak climbing success in Nepal largely depends upon proper preparation, weather, positive attitude, and body fitness. Island peak features a more successful rate than Lobuche East peak. These mountains demand an ideal human body in high elevation, mental stamina, and climbing aptitudes. Well-being and good planning are that thanks to your prosperity. The simplest for successful climbing is to possess mountain training sessions. This preparation is going to be substantially more productive for Island Peak than for Lobuche East peak. Also, you've got to keep the essential mountaineering gears alongside ordinary journeying hardware.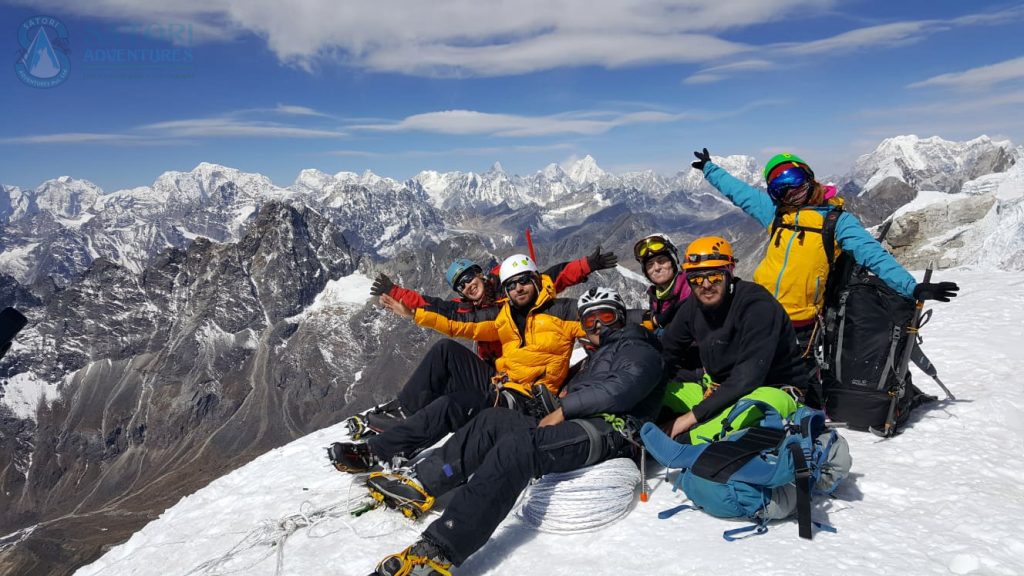 Physical fitness and previous experience: Lobuche East vs Island Peak climbing Expedition.
Island Peak is demanding and travel, which includes trekking and peak climbing with all the undertaking gear. Although past climbing experience surely helps yet no related knowledge is required for Island Peak climbing. Besides, at Island Peak summit, our climbing Sherpa guide will compose a special climbing instructional meeting on required climbing aptitudes and utilization of climbing gear. Pre physical preparation is a must to make a fruitful excursion without torment.
Both the Lobuche East vs Island peak climbing is exhausting ascensions. Climbing Lobuche East doesn't require any past climbing experience. However, the experience of rock climbing and high height trekking is a reward. Pre-climbing training, how to use the climbing gear likes, Crampons, harness, ice ax, ropes, etc. To climb the Lobuche East Peak, you must set up your body to stroll over rough mountain strolls. It would help if you were physically fit and walking (15-20km) every day for a month before climbing the Lobuche East peak. Lobuche East is perfect for those trying to climb Mt. Everest.
Food and Accommodation: Lobuche East vs Island Peak climbing expedition.
During trekking towards Island Peak climbing, you will stay at the tea house in the evenings till Chhomrong. During the trekking, you will have breakfast, lunch, and dinner, including 1/ 1 cup of tea or coffee. There are no settlements from ahead to the base camp; you will take to the camp in the evenings until climbing and returning to Chhomrong town. During the climbing from base camp, you will have a packing lunch.
Numerous teahouses and hotels are running economically at your administrations up to the town. For the Lobuche East Peak, you get facilities as far as possible up to the Lobuche town. Henceforth, you won't need to set up tents anyplace aside from the base camp and the high camp. The facilities are fundamental, however, with double sharing rooms and a mutual washroom.
Cost: Lobuche East vs Island Peak climbing expedition.
The cost of Island peak climbing starts from US$ 2,100 per person.
The cost of Lobuche East peak climbing starts from US$ 1,900 per person.
Cost includes and excludes for both of the height adventures are that the same. Read the below headings to understand the includes and excludes of the climbing cost.

Cost Includes:
Arrival and Departure hotel transfers
3 Night stays with BB Plan in Kathmandu
Round flight ticket from Kathmandu to Lukla and the other way around
Climbing permits for Island Peak
Entry permits for trekking and park
Tea houses and Camping accommodations
All of the meals except Kathmandu
Trekking and climbing guide
Porters fee
Necessary climbing gears
Camping and kitchen equipment
Care kits
Welcome and Farewell dinner
All of the paperwork and taxes
Cost Excludes:
Personal climbing gears
Personal Insurance
Alcoholic and additional beverages
Personal expenses
Tips and bonus
Best season: Lobuche East vs Island Peak climbing expedition.
The best season to climb the Island peak is during spring (March to May) and autumn (September to November) but also do all over the year, depends on your experience in trekking and peak climbing. In the winter, there is a vast mass of snow freezing.
Lobuche East is comparatively tough to climb than Island peak climbing. The best season to climb Lobuche East Peak is spring (March to May) and autumn (September to November). During winter and Monsoon, it isn't elementary. Lobuche East Peak requires a ladder and fixed ropes to ascend.
Mode of Accommodation: Lobuche East vs Island Peak climbing expedition. 
During Island peak climbing, you spend your nights in great teahouses up to the Chhomrong village. From the town, as you allow for the Island Peak Base Camp, you proceed to the ocean of ice with no settlements. So, you'll stay within the camps.
For Lobuche peak climbing, you'll get to enjoy the essential facilities for food and accommodations up to the Lobuche village. There are several teahouses and lodges at your service. But, as you ascend to the Lobuche Peak Base Camp, you've got to spend nights in the tents and accommodate the essential services our team provides.

Conclusion: Lobuche East vs Island Peak climbing expedition.
The Lobuche East vs Island peak climbing requires similar physical fitness and previous experience. It is also the upgrades and is well worth the time, money, and effort. However, there are a couple of differences that we try to explain above. The adventurous climb to the Lobuche East and Island peak climbing displays the magnificent views of several mountains. The tranquil views of Amadablam, Nuptse, Lhotse, Baruntse, Makalu, and other flowers are eye-soothing. You'll contact us to book your trip to Everest regions or the different regions in Nepal. We promise to organize your trip correctly for such adventurous climbs like these.
Itinerary detail of Lobuche East Peak Climb
Itinerary detail of Island Peak Climb