Most of the climbers have a question: How hard (technical) to climb mount Manaslu? How easy or how difficult to climb any eight thousand meters mountain can only be said in comparison only. It also depends on the climber's previous climbing experiences, weather, age, physical fitness, quality of personal climbing equipment, the experience of climbing Sherpa guide, reputation and background of the operator, and climbing season.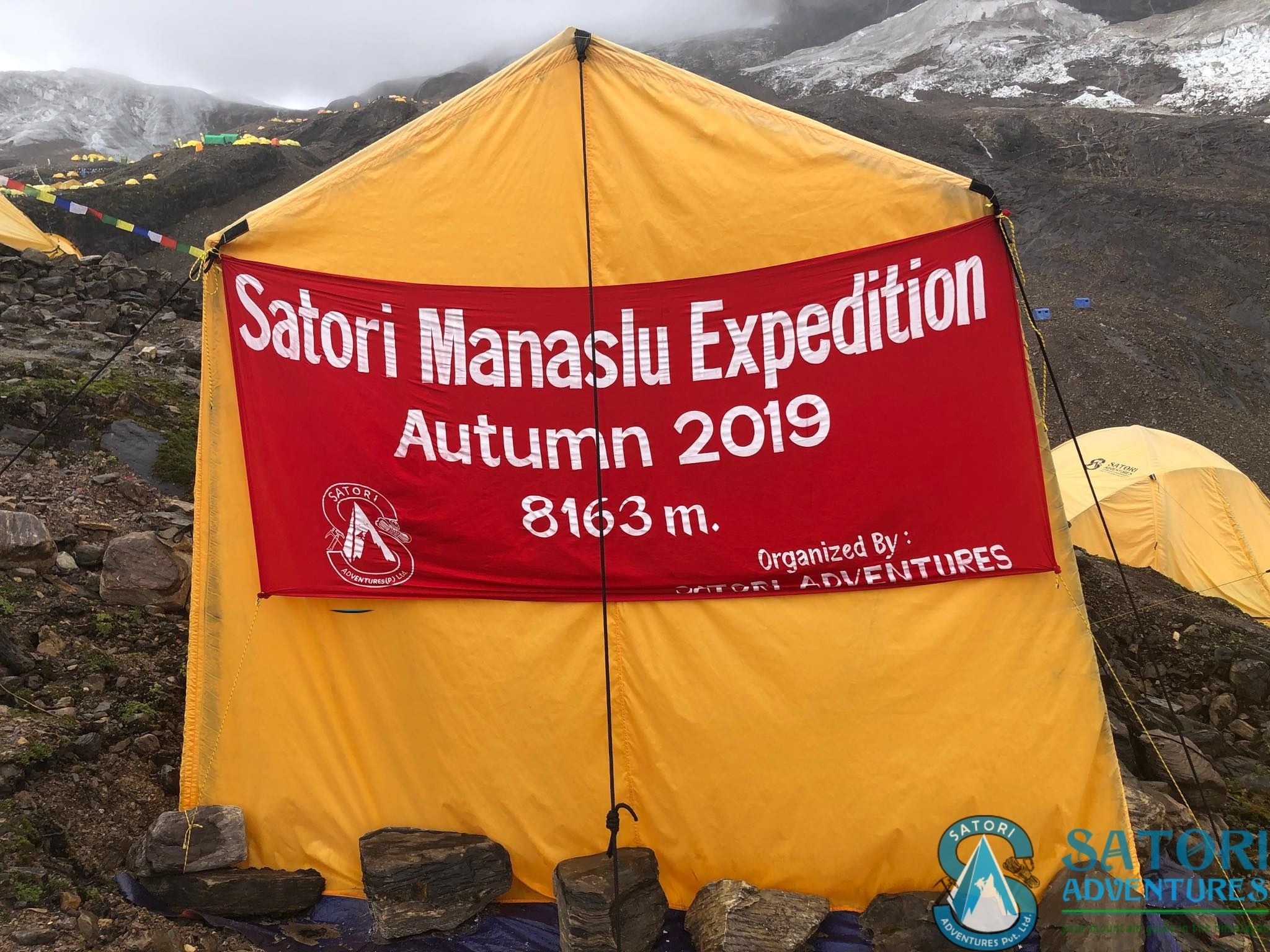 Many expedition operators and climbers as well as mention in their WebPages and blog that climbing Mount Manaslu is an easy enterprise. Actually the climbing Manaslu is more difficult than what it appears in various documents, advertisement brochures, and social media. In fact, none of the 8000m Mountain Expedition is easy to climb. Mountaineering is one of the challenging adventure games where many climbers lost their lives each year. However, in comparison, the Manaslu Expedition is considered to be less challenging among the 8 mountains of 8000meters located in the Nepal Himalayas.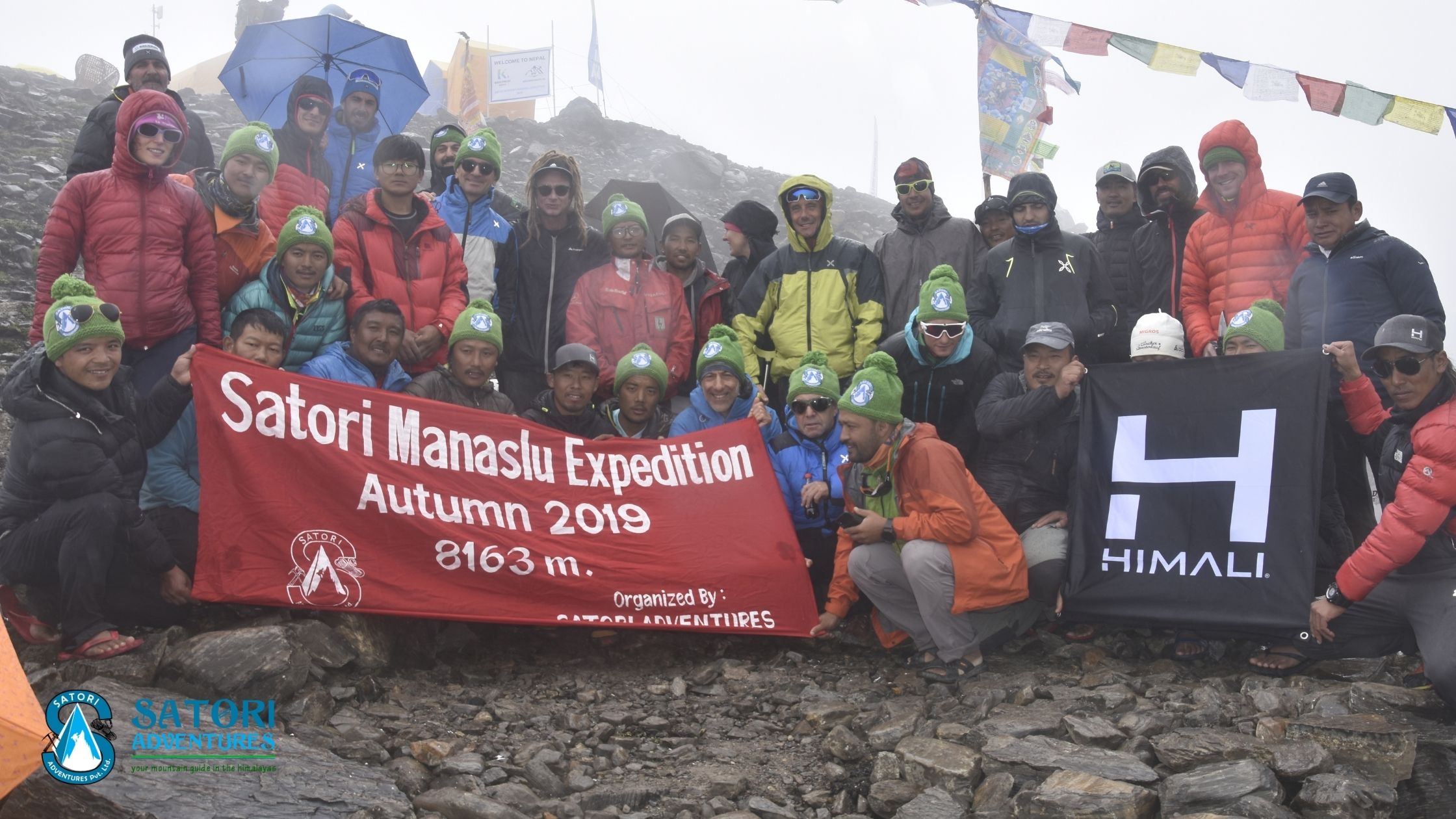 According to Nepali belief, God dwells in the mountains and by worshiping God it is expected safe passage to the summit. So, prior to the expedition, we organize a pooja/worshipping ceremony wishing a successful summit. You have a day or two in the Base camp for acclimatization, training, and preparation of the climb Mt. Manaslu. 
Manaslu Advanced Base Camp
Manaslu Advanced Base Camp is located at a height of 4,600 m/15,091 ft- 4800m/15748 ft. which are also called lower and upper camps. After one or two days rest and preparation at the Mt. Manaslu Base camp, you set out for the first and second base camp for acclimatization. On average, it takes 2 hours for a climbing Sherpa guide and it may take 3 hours approximately to you to reach the Camp-I from the Advance base camp.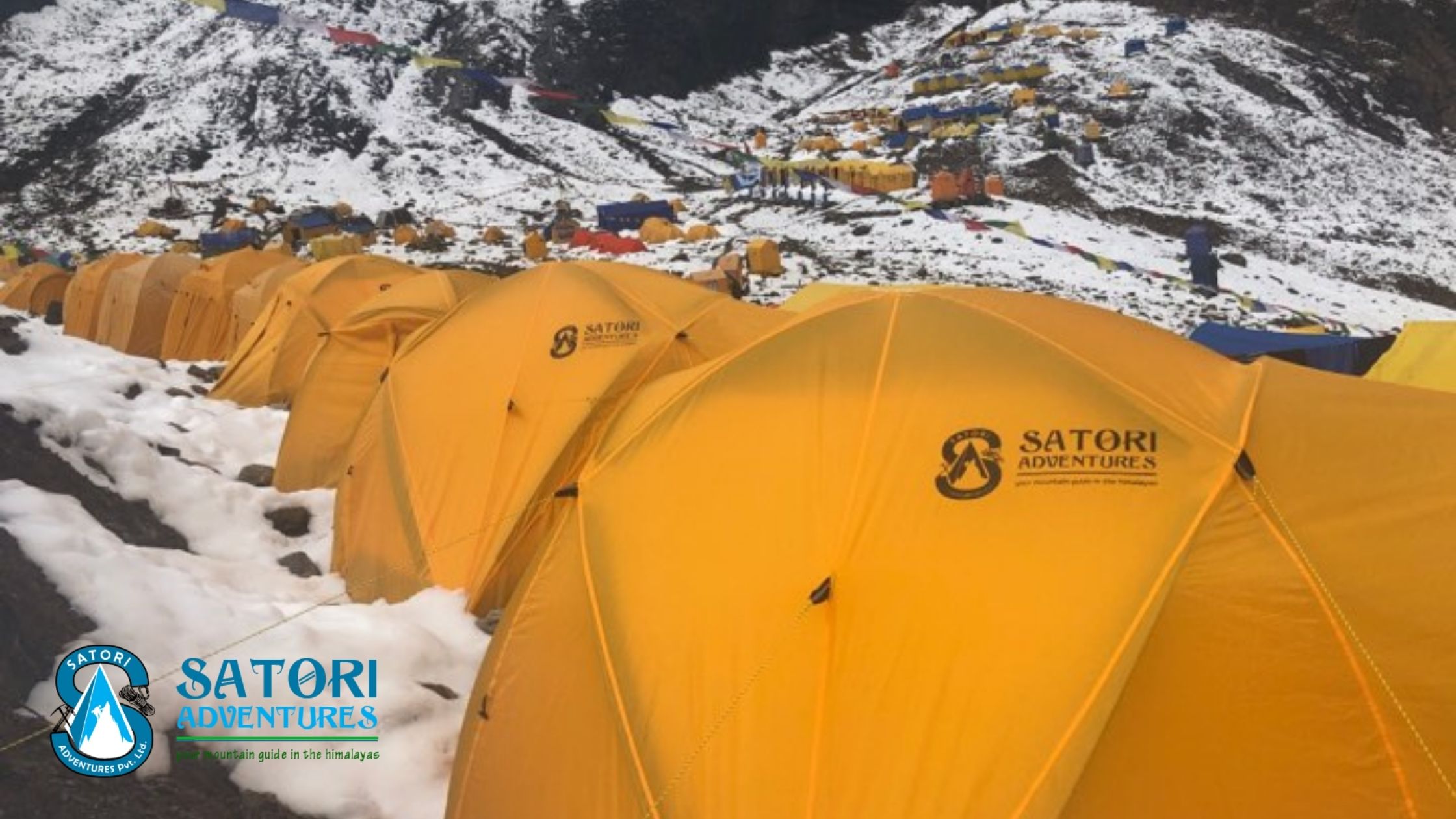 After the first 45 minutes of rock boulders of varied sizes, a steep path of 20-25 degrees climbing, you reach the bottom of a rocky part. From this point in the Mt. Manaslu climbing route, you have to ascend a vertical rocky wall about 75-80m of some 45-50 degrees slope. It takes about 20-25 minutes to cross this section and you reach to the crampons point.  From this point, it takes about 2 hour's snow slope of some 30-35 degrees to reach Camp-1, located at the height of 5,800 m/ 190, 29 ft.  Usually, the Camp-I is pitched in two places namely higher and lower camps in 100m distance and half an hour walk apart to each other due to the narrow space for many tents. Typically Camp-I is safe from avalanches or rock-falling.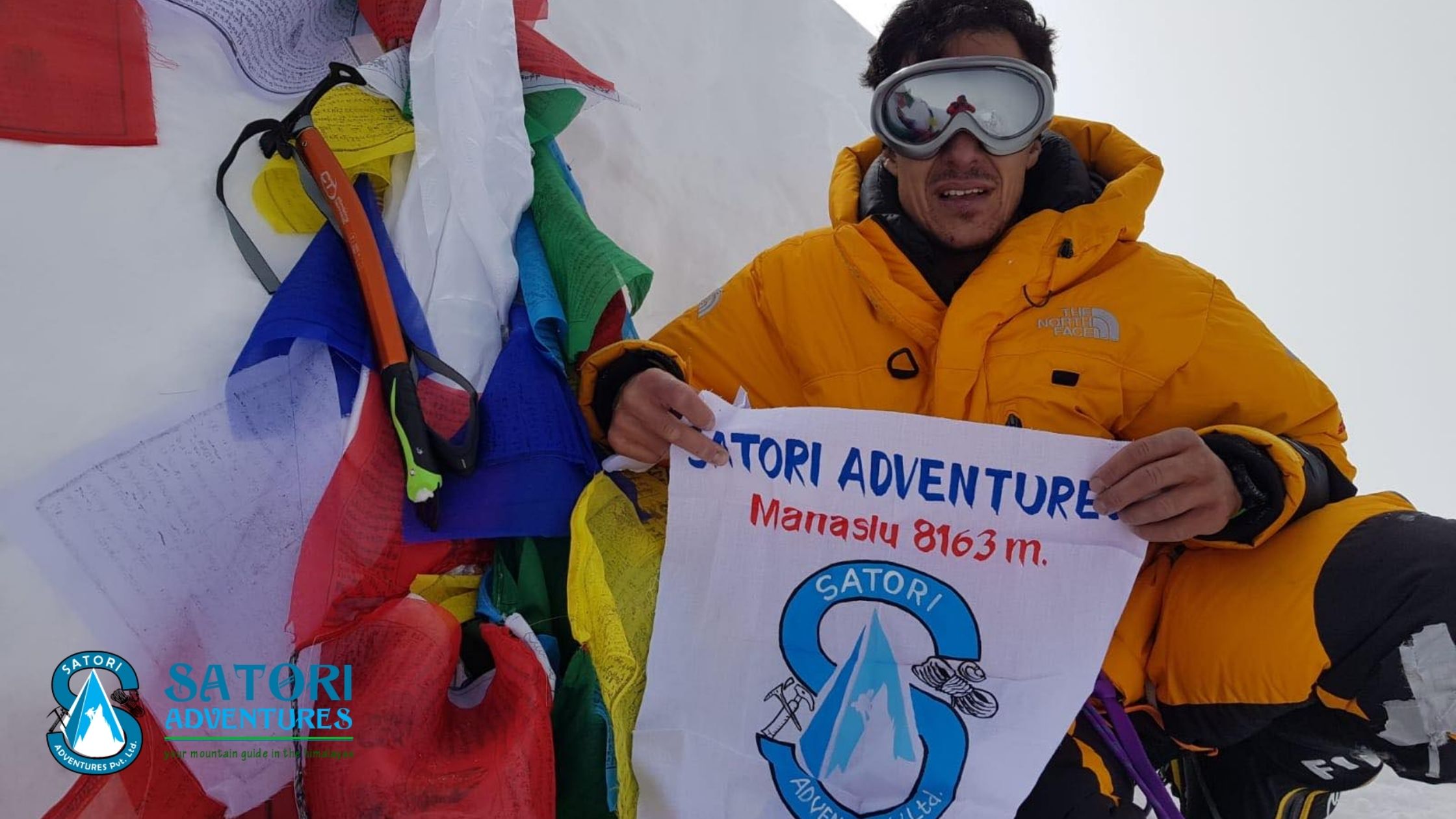 From camp 1, it takes about four hours ascends to reach camp 2, if you are a climber with average stamina. It depends on your acclimatization, weather condition, physical fitness, and walking pace. After 30 minutes uphill in 25-30 degrees ice wall slope, and another 30 minutes of the rough climb you reach to sections which pose challenges for climbers. The journey between Camp-1 and Camp-2 is considered to be the most challenging part of the Manaslu expedition. There are many Ice serac and Crevasse in this Manaslu climbing route. The climbing rope fixing team fixes the ladder 4-5 places (it depends on climbing season and year) to cross these crevasses. The first, the second and the fourth ladder is in flat Steep in between 3-5 meters distance of Crevasse and the third is fixed about 70 degrees of Steep Crevasse that normally is about 6m long (the size of the crevasses can be changing in each season, so this is approximate and for common guidelines only).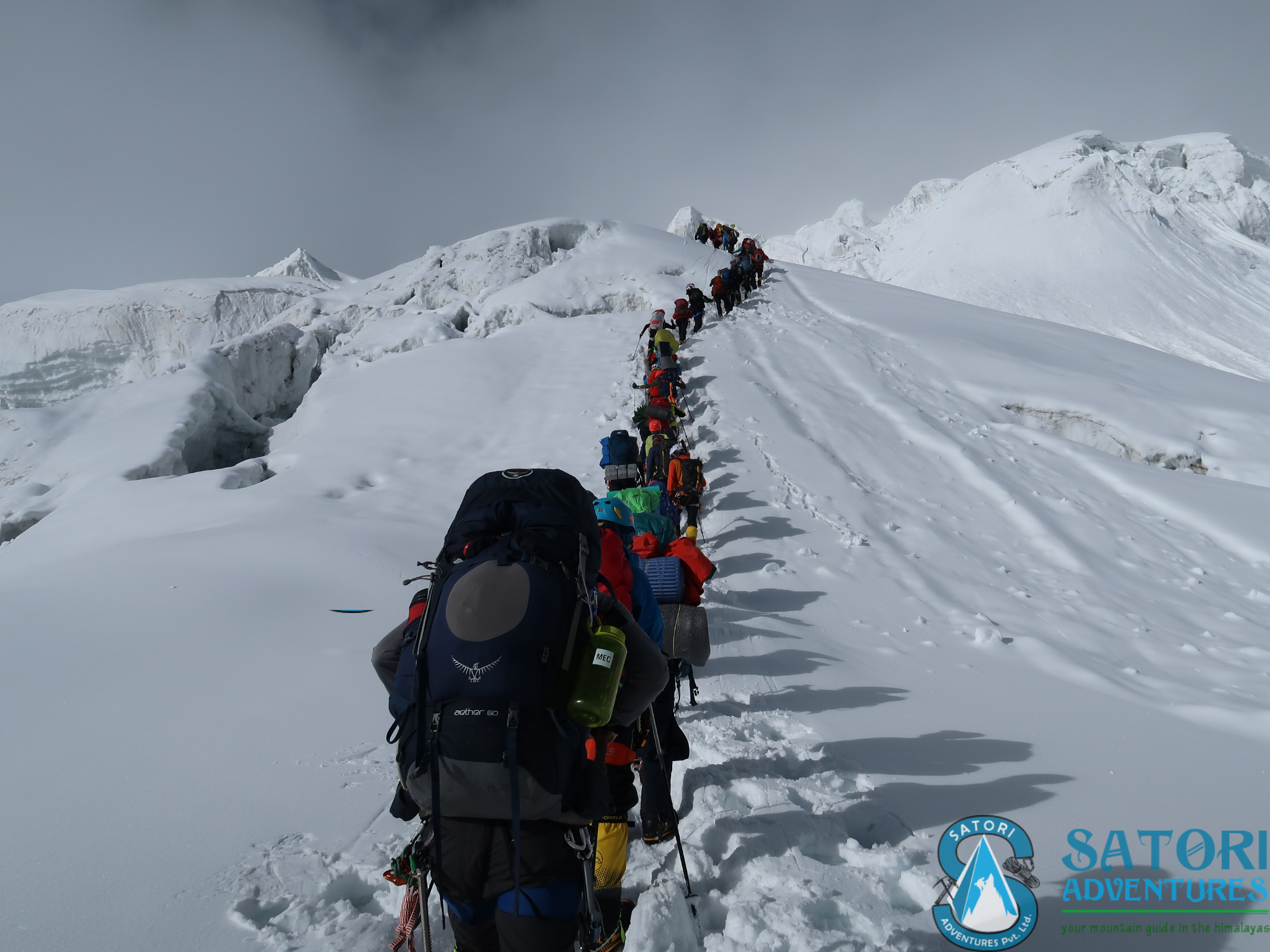 Mt. Manaslu's camp 2 is also in two places below and above the snow wall. Camp II is located at the height of 6,400m/20,997ft., which is also a safe location as the campsites. There are totally old and new snows in between those camps and our Manaslu climbing Sherpa's guides fix the rope two lines one for ascending and the other for descending throughout the entire route. 
Mount Manaslu climbing
The Mount Manaslu climbing from Camp 2 (C2) to Camp 3 (C3) is a safe and comparative easy climb. It takes about three hours for average stamina climbers to climb this section. After an hour walking above the snow slope about 30 degrees, you will arrive at the rope fixing section where about 150-200 m high vertical Ice slope is and takes about 45 minutes to climb. Crossing this section of some 45 degrees slope ice wall, you reach a flat area which is just 30 minutes walking to reach Camp 3(C3). There are also two spaces in between 10-15 minutes' walking distance.  Manaslu's Camp-3 is pitched at an elevation of 6,800m / 22,310 ft. 
From Camp 3, it takes about five hours to climb to reach camp 4 for average stamina climbers. This duration can fluctuate depending upon how many climbers are there at a time to carry out their climbing. If there are many climbers ascending and descending and traffic is bad then it may take 6-8 hours. The climbing route is a more vertical snow wall, and with a limited Anker that can be used to either ascend or descend by one climber at a time. In the last part of the climbing between Camp 3 to Camp 4, there is some 50-60m long flat area. 
Like in Camp 2 and 3, here in Camp 4 as well, there are two places above and below we use to fix tents as our camps. The camp can be either above the rock or above the snow crossing the rock area and descending short down at 7,400 m/ 24,278 ft.
The Manaslu climbing route from the fourth camp to the mount Manaslu summit is smooth and safe. As per our previous experience, almost 60% of climber use Oxygen in this part. That might be the reason that climbers feel easy to ascend.  You may start at about 23:00 Pm to 00:00 am for the Manaslu summit target by 06:00 to 07:00 am. That means the distance between Camp 4 to Summit of Mt. Manaslu is an average of 07 hours of climbing distance – not fixed to any climber and it's all approximate to the climber with average climbing stamina.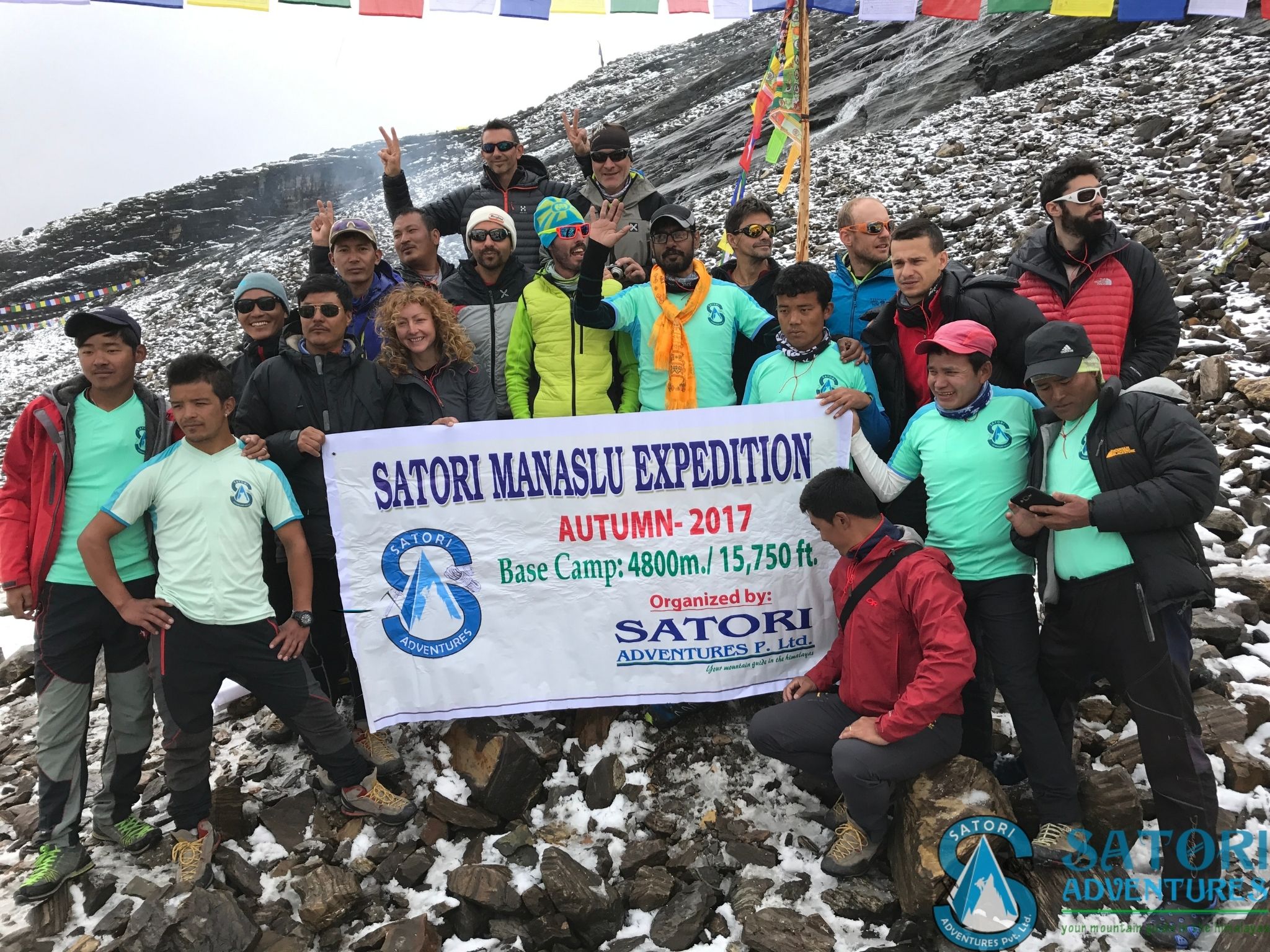 About an hour flat right side (southeast) ascending from the C4 you reach the vertical snow wall climbing place, which is about 45-50m to even 60 degrees of slope. After crossing this vertical snow wall with fixed static rope, you ascend another hour flat path further.  Almost from here to just below the false Summit of Manaslu (8090m approximately, it takes about 4 hours on the average pace of 30-40 degrees of the vertical route. It is a completely safe route to climb though. From the false summit to the real summit of Mt. Manaslu it requires climbing up another 100m of the flat and 50-60m slope of 30-35 to stand on the top of mount Manaslu real summit at 8,156 m/ 26,759ft. The rope fixing team always fixes the rope line for safety because there can be heavy winds some days. The space on the Mt. Manaslu summit point is really narrow even hard to accommodate 2-3 climbers together. This is why sometimes there is long traffic on summit queues.   
If you are a climber with good stamina, then you can descend all the way down to Camp 2 or even Camp 1 the same day from the summit. If you are a climber of average stamina then you can descend down to Camp 3 and then next day to Camp 1 and to the Advance Base camp the subsequent day. 
Visit itinerary details & Cost of Manaslu Expedition