We are Open for Autumn Expedition in Nepal  2021
At the early stage of the Covid-19 outbreak in 2020, people are upset, confused, and traumatized about the consequences of COVID-19. People have realized that to live with Covid and accepted it. This is the new way of living and there is no alternative for it. With the development and availability of Covid vaccines, people finally got the light of hope to fight against this disease. Vaccination is only the solution, maintaining distance, wearing a mask, hand wash, sanitizing are important for living and let live.
In 2020, there was no successful expedition in Nepal because of the drastic effect of the Covid-19 pandemic. Lockdown all over the nation, as well as many other countries, applied. Therefore, there was a fear among the people to travel and nobody is accustom to the situation. Hence, this causes extreme downfall in the tourist visiting Nepal and affects our travel and tourism business as well.
In spring 2021, people have slowly adapted to the COVID-19 situation and long days of staying home, people gradually come out with safety measures and started to travel. Tourism in Nepal also increased during that time. The government of Nepal also has issued a safety protocol and allowed tourists and visitors to visit Nepal maintaining safety measures and social distance.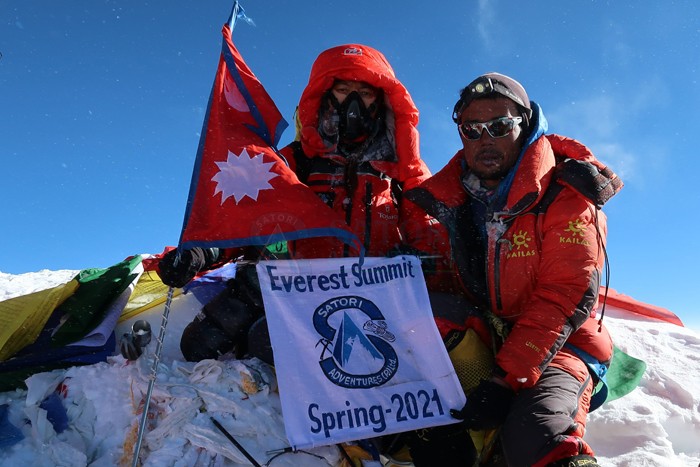 During this time, we at Satori Adventures Pvt. Ltd. also successfully operate our Satori Spring Expedition 2021. We had run Annapurna I Expedition, Everest Expedition South, Dhaulagiri Expedition, Amadablam Expedition, and Lhotse Expedition, and all of them completed beyond all expectations with zero casualties. Our clients were super happy with our service. We had made sure and prioritized the clients' safety in any aspect so that their journey would be safe and sound.
We Satori Adventures Pvt. Ltd. are dedicated and into this travel business for more than a decade now. 
 We are competent in expeditions, peak climbing, trekking, tours, and many others. We are a group of a qualified and experienced team and assures the best in business service. Our teams and service quality and professionalism are recognizable with our previous records and number of definite feedback in Trip advisor given by our amazing clients.
We want to assure all our clients that safety, security, and best service are at our utmost priority. We will be following all the norms of being safe from Covid-19 and won't compromise any aspect regarding health and safety measures.
After the successful summit of all our spring 2021 expeditions, we are ready for the autumn season expedition program with the fix and guarantee departure of the Autumn Expedition in Nepal 2021. Satori Adventures Pvt. Ltd. announces booking open till 15th August, 2021 for the following program.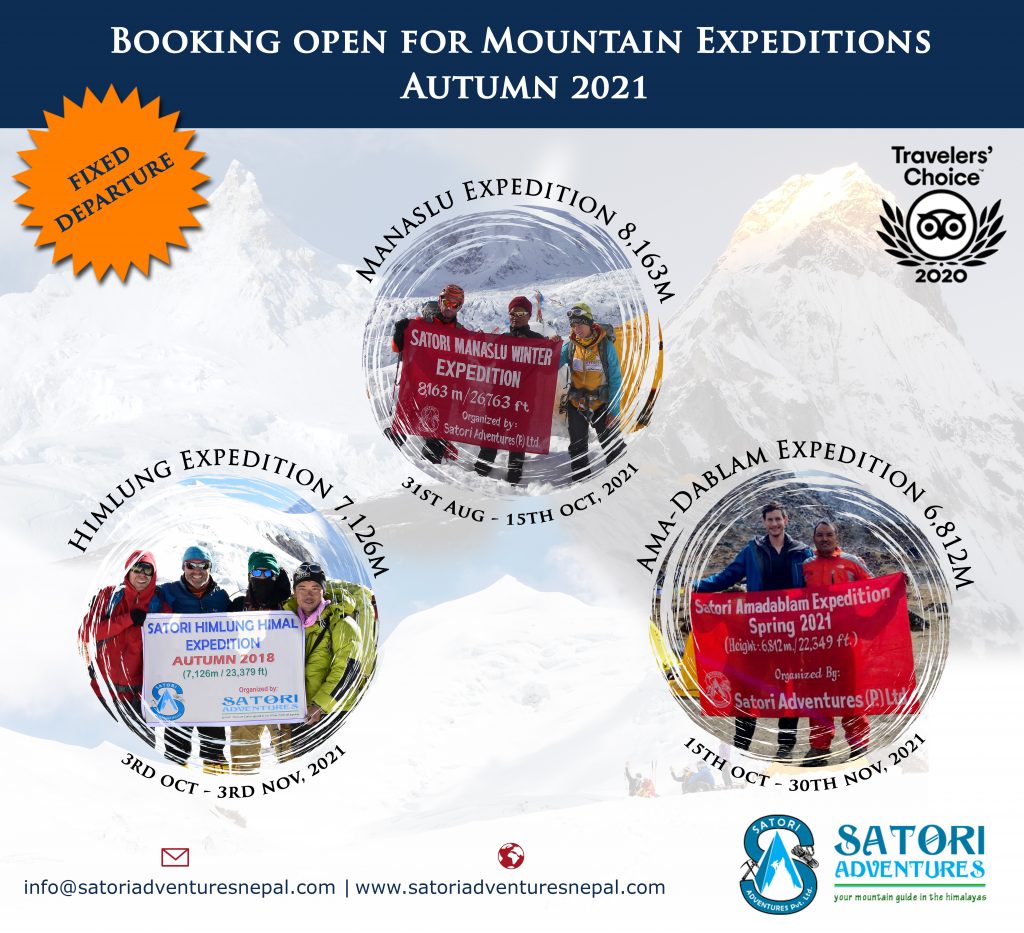 1. Manaslu Expedition 8,163m
Fixed Departure Date: 31st Aug – 15th Oct 2021
2. Himlung Expedition 7,126m
Fixed Departure Date: 3rd Oct – 3rd Nov 2021
3. Amadablam Expedition 6,812m
Fixed Departure Date: 15th Oct – 30th Nov 2021
For all travel lovers, Nepal is open for travel and we await you to give the best service following all the safety measures for the successful and memorial trip of your lifetime. We request all to participate and confirm our Satori Autumn Expedition 2021 program.